The challenge is to manage client relationships without overextending your operations. This article shares the most common ways software can help business leaders develop strong client relationships.
The importance of client relationship management
The construction industry in the US has been growing, despite the 2020 pandemic crisis.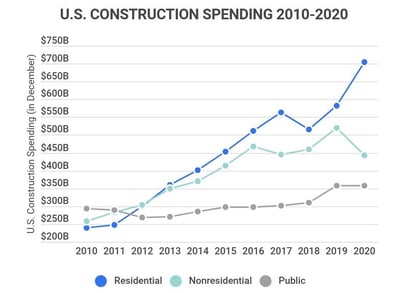 ‍
‍
A critical factor for the success of a construction project is to have an excellent working relationship between clients, contractors, and other service providers related to the project. A good working relationship should be based on trust and collaboration, resulting in more contracts and a long-term relationship.
The relationship between contractors and project managers substantially impacts the project's outcome. According to one report, contractor integration and commitment affect the project performance indirectly. Still, when the client has confidence in the project and has insight into the supply chain, it directly influences the project performance.
Key tenets of effective CRM
It takes time to build and maintain a strong working relationship, and it is important to get this right from the start, laying the foundation for a good rapport. Customer relationship management (CRM) comprises the discipline and technologies companies use to manage and improve relationships with their clients.
‍
‍
Here are simple effective ways to build strong relationships and gain more contracts.
‍
1. Start with good communication
The first step in improving the relationship with your clients is good communication. Find out what mode of communication works best. Do your clients prefer emails or messages to calls? Would you prefer all communication be carried out in the management software you use?
‍
Ensure this is determined early on, so you and your client are on the same page. For large projects, it can be helpful to assign a primary contact to a customer so the lines of communication flow smoothly.
‍
Once you start communicating with your client, keep communication concise and straight to the point. You may find yourself dealing with customers unfamiliar with the construction industry, so avoid using jargon in those cases.
‍
2. Keep customers and stakeholders up to date
Communication with your clients needs to be a continuous effort. Long construction projects often have delays and setbacks. To provide good customer service, you need to provide frequent updates to inform them about any issue that can disrupt the project. This demonstrates reliability and builds trust.
‍
3. Leverage technology to your advantage
Use technology to share videos, screenshots, pictures, and progress reports with clients. You can take before and after images to show the project progress, using pictures to explain situations that are difficult to describe.
‍
Many construction companies have started modernizing their practices by integrating management software specially designed for construction. This type of solution enables sharing documentation, reports, images, and video from a centralized system. Project management software can streamline communication and documentation sharing.
‍
If you follow these three steps, you will arrive at the final stage, which is growing your business. Effective communication and optimized processes with the help of technology lead to growing your customer base. These long-lasting relationships open the doors to future projects from your clients and referrals.
‍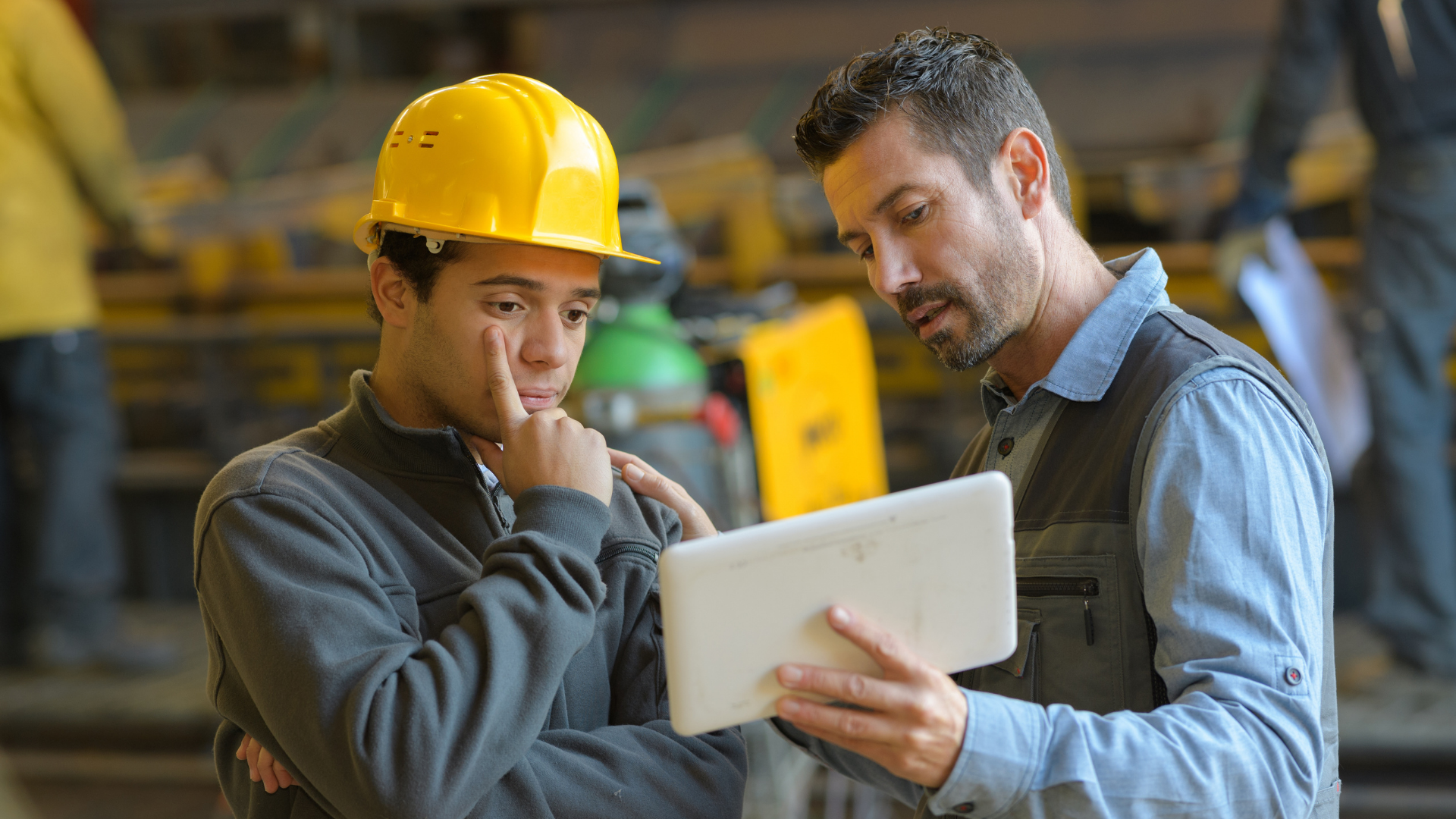 How modern software can aid in the development of strong client relationships
Technological advances have simplified the interaction among all stakeholders, clients, subcontractors, auditors, inspectors, architects, engineers, and more for construction companies. Sadly, construction managers invest only 2% of their budget on IT. Fortunately, this situation is changing due to the significant advantages technology offers to contractors.
‍
Here are some of the benefits of leveraging technology in your customer relationships:
‍
1. Flexible communication
One of the first advantages you may notice when you implement construction management software is the flexibility it brings to communications among all stakeholders. Regardless of where the staff is—in the office or on the job site—the software keeps them connected at all times. This flexibility ensures prompt communication of change orders, incidents, and sharing of documents and data.
‍
Poor communication can be costly, produce misunderstandings with clients, and delay the project. It is easy to keep your clients in the loop when everyone has all the information at hand.
‍
2. Consistent estimations
Estimations can be a source of conflict with your clients when they prove to be vague or inaccurate. Traditional manual methods can lead to inaccuracies and mistakes. Construction software can improve the estimating process, producing detailed bids and calculating the project's scope—resulting in quick and accurate estimates.
‍
3. Accurate cost management
Besides estimates, cost management is another cause of conflict between project managers and their clients. Contractors need to forecast project costs and outcomes to keep their credibility with financial partners and clients. With construction management software, you have the visibility that enables you to compare actual costs to the budgeted cost.
‍
4. Streamlined operations
A dedicated construction management software can provide visibility over work orders and how operations are doing day by day. It takes care of work orders from start to finish, keeping all documentation, change orders, and reports available. It saves time and costs, helping the relationship with clients by preventing project delays and human error.
‍
5. Detailed project and equipment management
To be successful, a construction project requires a combination of careful planning, monitoring, and control to keep the project on schedule. Using project management software gives you the visibility you need to monitor project progress, find weaknesses, and quickly make improvements. Similarly, construction managers can address equipment information, move them to another location, schedule maintenance, and save costs.