Data entry is a common business task, but it's slow and time-consuming. Companies in almost every industry are taking steps to get rid of manual data entry — and the construction industry is no exception.
Followup CRM has taken measures to help construction firms get rid of manual data entry altogether. In this article, we talk about how you can integrate Followup CRM into your system in a way that requires zero manual data entry.
Let's dive in.
Utilize Followup CRM Plugin to create new projects in no time
You might be getting your project invitations from several sources, but all of these eventually boil down to your email. That's why we have created a handy plugin for Outlook and Gmail that you can use to quickly extract information from your emails and create new projects from it.
After you've installed the plugin, open the email you want to create the project from. When the email has fully loaded, you should see the Followup CRM Plugin on the right-hand side. Click "Project" under the "Create New" title.
The plugin then automatically reads your email and fills in all the information about the project, including project name, address, contact information, and much more.
When you're done, click "Update Project" on the top-right corner of the plugin, and the project will be automatically loaded into your CRM.
Use our third-party integration tool, Zapier
Zapier is a third-party tool that you can use to minimize data entry even further. To use it, create an account on Zapier and log into it.
After you've set up your account, head towards the homepage of the Zapier web application.
You can use Zapier to extract data from several platforms; however, we are going to talk about WordPress in this post. In the "Connect this app…" text field, select WordPress. In the second field labeled "With this one!", select Followup CRM.
In the "Then do this!" drop-down menu, you can select what the tool should do when a potential customer enters information into your form. Select "Create Project" under the "Then do this!" menu and the system will automatically create a new project in your Followup CRM system when a customer submits a form.
Followup CRM's integration with other construction software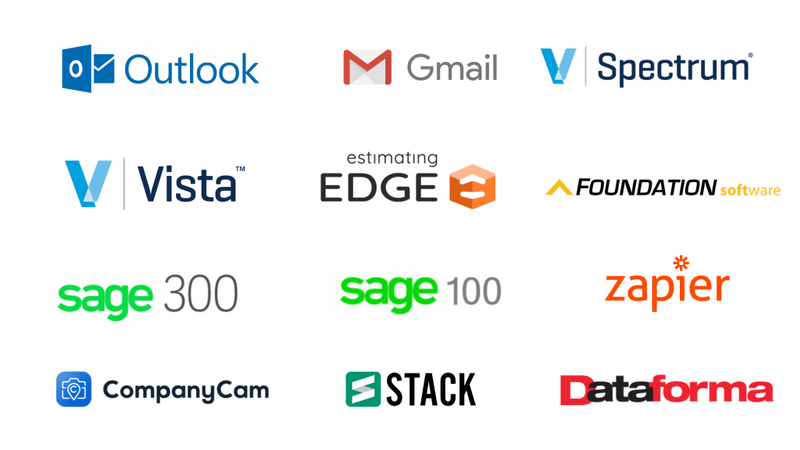 To help customers reduce their data entry hustle even further and make their day-to-day tasks easier, Followup CRM has integrated with many tools and software pieces. These integrations streamline the workflow of construction firms, ensuring they have all the information they need, right within Followup CRM.
Here are some tools we have integrated with
Followup CRM lets you integrate with many applications related to accounting, project management, and estimation. Here are some of the tools we support integrations with.
Keep your business conversations in one place and send work emails right from your Followup CRM interface.
If your firm relies on Outlook, rather than Gmail, we support that too! Access all your mailing functionality from your Followup CRM interface for seamless communication.
Manage your clients' information, pricing models, and jobs, without ever having to leave Followup CRM.
Get all the tools you need to run your business smoothly through one of the world's largest workforces: Quickbooks.
Create projects in either one of the integrated systems, i.e., Followup CRM or CompanyCam, and see them synchronize instantly!
To check out our entire portfolio of integrated tools and applications, click here.
Conclusion
Data entry is one of the most frequent complaints users have about CRM software. Followup CRM has completely taken care of this issue and reduced data entry to an absolute minimum. ‍
With the top ways to reduce data entry mentioned above, you can make sure your workforce is spending time getting meaningful things done, rather than sitting there and copy-pasting data. ‍
If you want to see the full potential of Followup CRM and what it can do for your company, feel free to request a live demo here.
‍