The Key to Being Hired Again
‍
The basic principle is obvious, but worth stating. And there are two sides to it: The biggest reason a customer returns is because your company did a great job, meeting or exceeding expectations. If a customer has had a poor experience, they will not come back no matter what you do.
‍
If a general contractor or construction company treats their client well while doing a great job, developing trust and fostering loyalty, not only will those clients come back when they have a new job, they will refer others to your business.
‍
Creating a repeat customer starts the day they hire your company but does not end the day the job is finished. Below we give you details on how to develop lasting relationships with your customers that produce repeat business and referrals.
‍
Deliver Excellent Service
Start with outstanding customer service by making sure you and the client understand the entire scope of the job, including all expectations on both sides, so there will be no misunderstanding as the project moves ahead. Set an in-person meeting to go over all of the details.
‍
Maintain frequent communication with the customer, report any materials or schedule issues immediately, make sure your crew shows up on time and acts professional, and keep the work on schedule.
‍
Follow up with the client at the time of completion to discuss any issues that occurred as well as the satisfaction of the customer. This is also a good time to ask them if they are considering any future projects, and let them know you have a referral program. If you don't have a referral program, you need one.
‍
Over-Deliver
Find out exactly what the customer wants and exceed their expectations, if possible. A few proven ways to do this are to speed up timelines, upgrade materials at no additional cost, find a way to save them money, stress or both. Provide information before they have a chance to ask for it, showing that you are the authority in your niche and have anticipated their questions. And, of course, deliver an outstanding product.
‍
When the job is buttoned up, and the account has been settled, send a quality gift with a hand-written note expressing your appreciation. This is a great way to end the job – and make your company the go-to choice for their next project and increase the potential for referrals.
‍
Start a Referral Program
Everyone who sees your finished product is going to ask, "who did you hire?" or "who did the work?" If you've done a great job, the customer will be eager to endorse for your company. That's the best way to ensure referrals.
‍
And you can encourage satisfied customers to go out of their way to make referrals if you give them an incentive. Offering clients rewards for referrals is a proven way to get free advertising. Word-of-mouth is the most effective form of advertising, and referral programs motivate your previous clients to let someone else know how satisfied they were with your work.
‍
For example, an HVAC contractor might offer a free annual maintenance, a remodeling company can offer a discount on further work, and offering a gift when a referral comes in works for any contractor.
‍
Ask for Feedback
Always follow up a job by asking your customer to provide you with feedback. If there were issues, this lets them know you are willing to listen and improve based on their opinions. And it gives you the chance to make it right, if possible. You can get feedback in person, which is best, or on the phone. An email survey is less personal, but might be the best approach if you have a high volume of customers.
‍
Create a Discount Program for Additional Projects
Think about what kind of pairing makes sense for your business and your clients. For instance, an HVAC company may offer a discount on a new air conditioning system when a new furnace is installed, or a remodeling contractor might offer a price break on a bathroom when a new kitchen is installed, or a lower price on siding when a new roof is purchased.
‍
Maintain Contact
After a sale, continue to strengthen the relationship you worked hard to develop during the sales cycle.
‍
Keep in touch with past clients, and you'll be more likely to gain repeat projects. You know quite a bit about them and can easily send emails with content that appeals to them. Other ideas for staying in touch include sending a quarterly newsletter with seasonal discounts or industry trends and innovations.
‍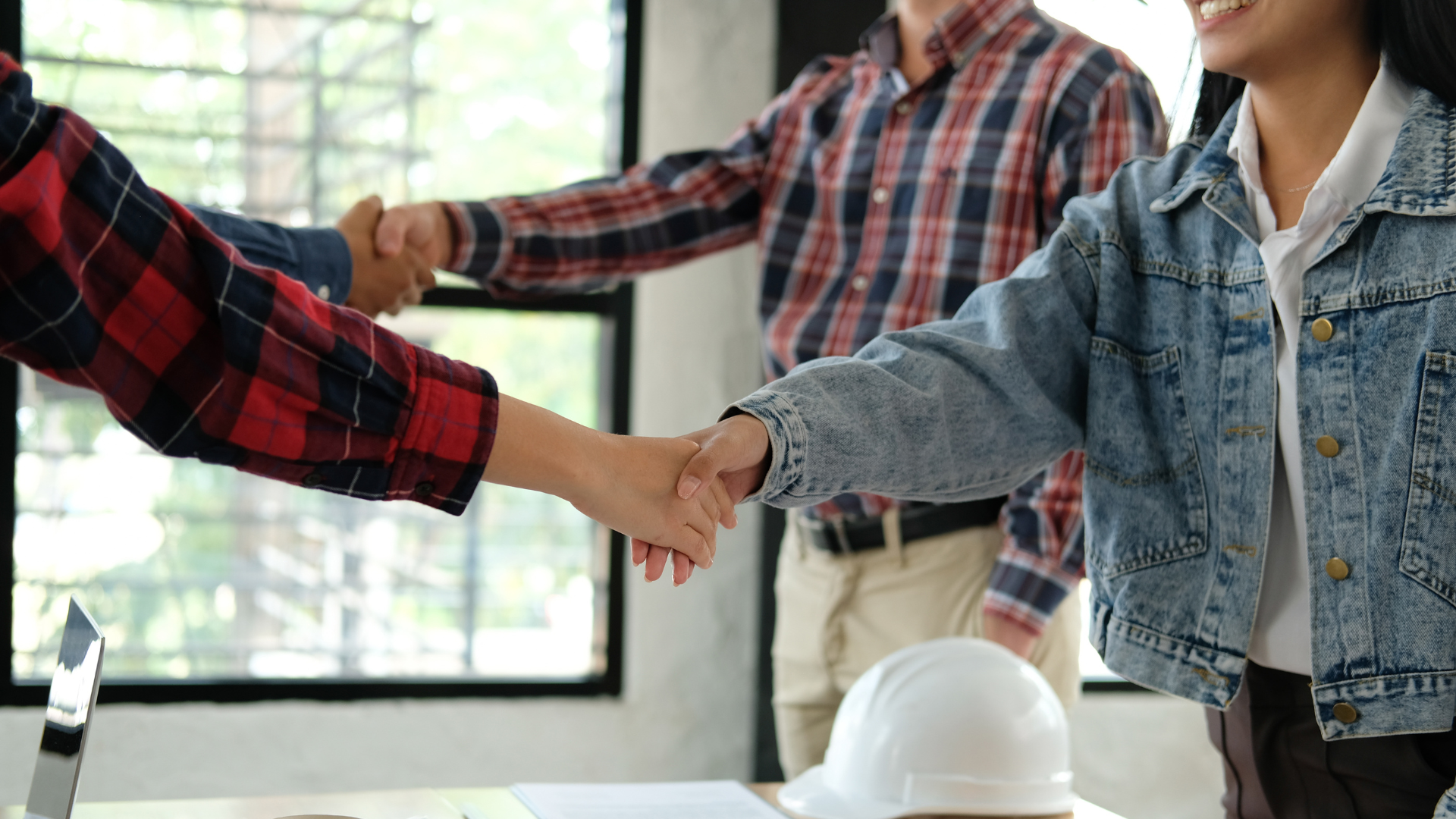 How to Develop Quality Content
Content your contacts find useful is important to converting new leads to sales, and it plays a part in building repeat business. Below are ideas for producing intriguing, convincing content that clients will read. This content can be included in an email, as part of a physical newsletter, or published as a blog post on your website.
‍
Give a Voice to Current or Previous Customers
Create client testimonials, or perhaps a previous customer would be willing to participate in an interview where they are asked to discuss their experience with your company, the insight they gained, and how your company met their expectations. Before and after pictures should be included.
‍
Case Studies
Develop case studies showing how your company solved particular challenges, the "how" and the "why" behind the solution, and the project's successful outcome. For instance, a kitchen remodeler might show how they added storage to a small kitchen or a solar contractor could feature the installation of a solar power system on a particularly difficult roof.
‍
Manage Your Contacts with Effective Software
If keeping track of past and potential clients and connecting with them in ways that lead to future business sounds a little overwhelming, that's understandable. And it is one big reason to consider a type of software called client relationship management software, or CRM, or lead nurturing software. Most have features that allow you to automate keeping in touch, sending emails or blog updates and offering incentives. One of the key benefits is making your sales process both easier and more effective.
‍
Build Relationships With Other Contractors
Contractors you've hired or done work for can be a great source of future business. It makes sense to build relationships with other contractors and professionals in related industries including designers, architects, and decorators. Good CRM software can help you streamline and automate these relationships too.