When it comes to completing a construction project, there are several crucial steps needed in order to flawlessly execute a project from start to finish. With several tasks and multiple staff members responsible for those different tasks, it's not always easy to keep everyone on the same page and have a thorough understanding of the project progress. Here are three construction project management tips to ensure your team stays on the same page and all your projects are delivered on time:
‍
1. Use a CRM that Offers a Project Management Tool
If you're still using spreadsheets and whiteboards to keep track of your project statuses, it's time to go digital (like, yesterday). Trying to keep track of your jobs on spreadsheets makes for a huge chaotic mess and you're almost guaranteed to forget important tasks and stay on schedule.
Invest in a CRM that has a project management tool to ensure all your data stays in one organized place and is accessible anywhere from any device. Our project management tool allows you to schedule and assign all your specific tasks for each and every job and alerts you when items are overdue. This reduces any risk of letting any project tasks fall through the cracks.
‍
2. Communicate Effectively with Your Team and Client
Every construction job requires work from everyone on your team in order to successfully complete it. Oftentimes, we can't do our jobs if we're waiting on someone else to pull their weight. Be sure to communicate effectively and frequently with your team. Consider investing in a project management tool that allows you to leave notes and comments to your team members. This will allow you to get questions answered quickly and efficiently.
Our tool allows you to tag individual team members to do just that. We also integrate with Gmail, Outlook, and Microsoft Exchange so that all of your conversations stay in one place and you can easily send emails directly from the platform – from anywhere!
3. Monitor a Dashboard Daily
It's important to track your project progress daily to make sure everyone stays on schedule. Be sure to invest in a project management tool that offers a dashboard feature that allows you to easily visualize you and your team's progress.
Our project management tool features a color coated dashboard that makes it easy for users to see which tasks are on time, upcoming, and which ones are late. Relying on spreadsheets or memory is sure to set you and your team up for failure. Followup CRM alerts their users when tasks are due or late so you never have to worry about missing a deadline ever again!
Followup CRM offers all the tools you need to keep your construction team and projects on track. Request a live demo now to learn more about how our project management tool works.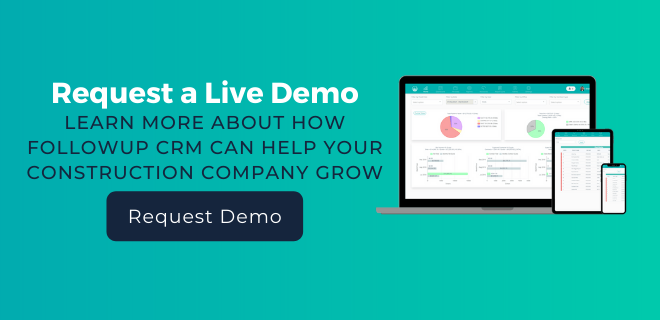 ‍